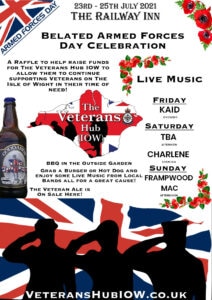 The Veterans Hub Isle of Wight are pleased to announce that our Belated Armed Forces Day Celebration Weekend is coming to the Railway Public House, St. John's Road, Ryde.
The weekend starts with KAID a fabulous local band who play music from the 60s to present day sets. KAID will be playing live from 20:00 to 23:00 on Friday evening.
On Saturday Evening we have the incredibly talented Charlene sings a vast range of old & new songs, from jazz, soul, blues, classic & modern rock, pop of all ages, dance & drum n bass! See Charlene live from 20:00 – 23:00.
On Sunday afternoon we have the amazing FRAMPWOOD MAC playing our afternoon session.

There is a raffle, with lots of prizes donated by local businesses.

A garden BBQ

And of course you can grab a bottle of Goddards 'The Veteran' Ale.
All proceeds of this event goes to the Veterans Hub Isle of Wight, to help local Veterans, Service men & women and their Families during times of crisis.