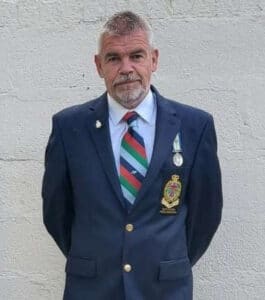 Dale Hillier served in the Falklands in 1982 on HMS Intrepid and then in Grenada in 1983 on HMS Antrim.

Dale suffers with PTSD, he takes medication to help ease the flashbacks that he suffers from.

During his time in the Falklands he experienced air raids 7 days a week. Whilst in the Falklands the ship he served on was hit by an unexploded bomb. But Dale's worst experiences were when the RFA Sir Galahad was hit by a bomb. HMS Intrepid took aboard the casualties and bodies in black bags.
Dale Hillier joined the Royal Navy as a 16 year old. Whilst he is rightly extremely proud to have served and fought for his country, nothing could have prepared him for what he witnessed and the aftermath of those experiences.
These experiences cause him to experience flashbacks, nightmares, depression and anxiety for many years. 

Because of Dale's experiences, he felt a need to help others who have been through similar experiences and suffer from PTSD due to their military service. 

Dale Hillier is the driving force behind the setting up of a veterans hub on the Isle of Wight.

A sad fact is that, there are many veterans taking their own lives, those who suffer from PTSD & a lot living in total isolation, who feel they have nowhere to turn. 

So Dale got together with 2 good friends, who had similar ideals to his. And together they set up a Community Interest Company which is the Veteran's Hub Isle of Wight…